CMR Chosen as EXCLUSIVE Website Vendor Partner for SOGGDA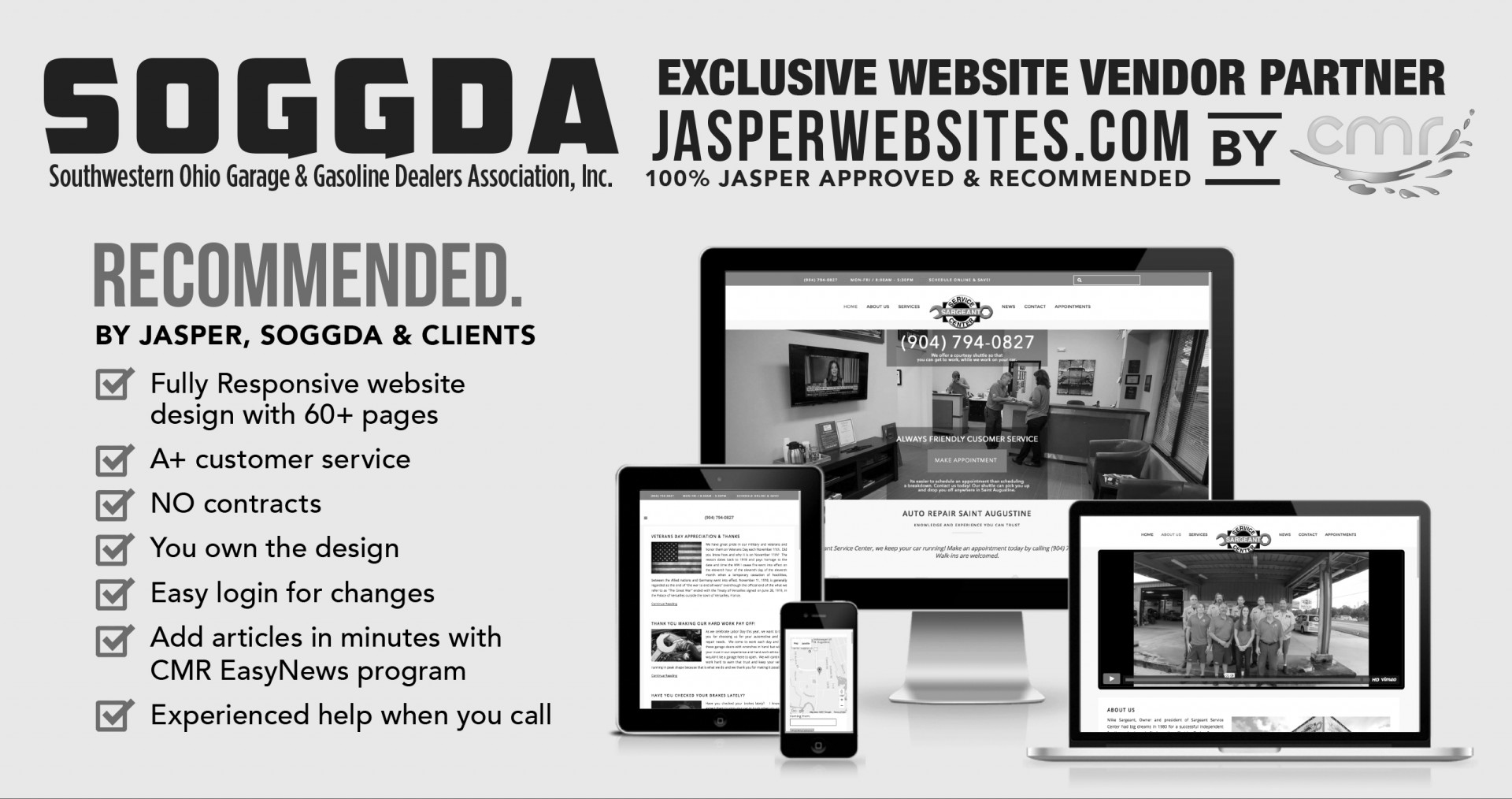 We are exceptionally proud to announce that SOGGDA, the Southwestern Ohio Garage & Gasoline Dealers Association Inc has chosen CMR, Inc. & it's JASPER Website program to be their EXCLUSIVE Website Vendor Partner. This association has proudly served their members since 1948 and having another heritage program recommend us to their member garages is an honor and a commitment to excellence that we do not take lightly. Their members can expect the same innovative ideas and discounts that our JASPER shops have come to expect. They will soon find out that picking up a phone and talking to our team is EASY, changes are EASY, and websites are supposed to be functional and EFFECTIVE.
We will be hosting a seminar at their annual October meeting and invite their members to attend titled: WHAT GOOGLE "really" WANTS.
We will be completely redesigning the website for their program itself and adding a Membership Directory for easier function and design. Their news program will be unique to their needs and we look forward as a team here to working with them in growing their platform! Thank you for choosing our team here in Madisonville Kentucky to work with your large group of garages across Ohio.
---
Complete Marketing Resources, Inc. (CMR, Inc.) specializes in online marketing, consulting, award-winning and functional website design, search engine optimization (SEO), and proprietary content management programming while providing measurable savings and results.
Expect great customer service, fair pricing, and a unique viewpoint. We look at each project with the goals set to achieve results, stay on budget, deliver on time, and most importantly streamline your expenses. Each job is exciting and unique so we work hard to deliver results and the result is a growing business with great customer referrals and testimonials. Read Testimonials
READY TO GET STARTED?
GET A CUSTOM QUOTE HERE
CALL: (270) 245-2365 | This email address is being protected from spambots. You need JavaScript enabled to view it.